1
« on: January 10, 2018, 11:02:14 PM »
Quite a long time ago, I assumed that the mobile tracks in the Shinji Hosoe Works Vol. 5 (Also containing the LD mix of the Arrange Tracks along with the previously unreleased CHARACTER SHOW) were only exclusively made for said album, until I found this.
It's StarBlade for Vodafone Live!
(Scroll down)
Complete with its own Animated GIF showing footage of the game in action.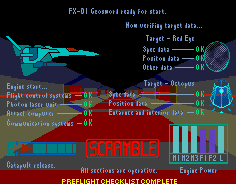 And a couple more screenshots
to go along with it.
Quite a rare port, indeed.
How this has missed my eye, I've no idea, not to mention that said port isn't even mentioned on the japanese wikipedia, let alone its release date.